Keto Party Food – Low Carb BBQ & Potluck Food Ideas & Recipes
Summer parties are here.  That means that you and I are going to be looking for great keto party food and ketogenic potluck recipes that will please the in-laws while keeping you in ketosis right through the party. Alcohol you can have on keto comes in handy, too!
Summer means lots of neighborhood potlucks and All-American barbecues. These types of summer parties are both a blessing and a curse for someone on a Ketogenic diet.
Steak, hamburgers, and brats on the grill are all great ketogenic fare, just leave off the bun and sugary condiments. But side dishes and adult beverages are often deal-breakers and ketone killers.
We're here to help. With everything from meat to beer, we've got you covered.
---
Keto Eating at a Party Tips
No matter what the social situation, when Keto eaters attend a social function, it's often hard to find enough fat to eat that is high-quality and not wrapped up in or surrounded by carbs.
Keto Tip #1 – Do yourself a favor and eat before you go to the party!
This is the best thing that you can do for yourself. Making sure that you've had a good, high-fat meal before you leave the house will help keep you satiated and on track. You can spend your time at the party talking with your loved ones and playing backyard games instead of eating because you won't be hungry.
Then again, if the hot dogs and burgers look good, enjoy!
Keto Tip #2 – Bring your own keto-friendly options to the potluck.
You can make them yourself – we've got some great recipes below. Or you can buy some beer and snack replacements if that's your style. We've got suggestions for those too so just keep reading.
Once at the barbecue party, scope out the options. Meat on the grill? Good. Raw vegetables? Good. Cheese and sausage tray? Good! There are usually a number of options on the food table that are Keto good to go.  
---
The Best Keto Party Food Recipes
No one wants to show up at a summer party empty-handed.
Bringing something to share ensures that there will be something Keto-friendly that you know you want to eat. You can stay on track with your health goals and show your friends and family how great this way of eating can be at the same time.
Bring on the family picnics and backyard barbecues. We are ready for a keto-summer with some of our favorite low-carb, high-fat keto potluck recipes.
Great Keto Party Food Recipes
The beautiful keto appetizers are as yummy as they are stunning. Perhaps more importantly, this is a super keto appetizer recipe is super easy.
---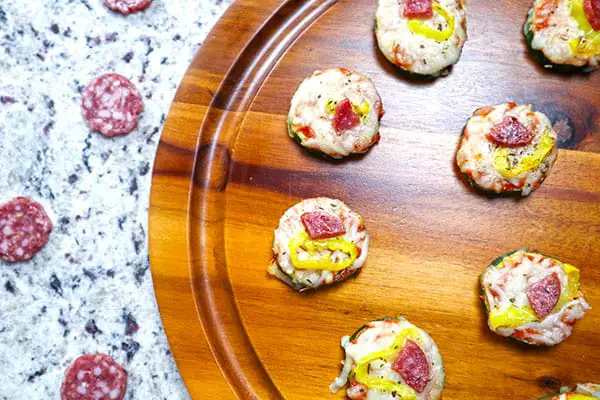 Another easy keto party appetizer recipe. Everyone is going to love these pizza bites, and you'll even get the kids to eat zucchini.
---
This is a real crowd-pleaser. If your gathering involves a potluck, bring a Keto version of the All-American Chili Cheese Coney, made into a casserole for easy sharing. With brats, homemade chili, and lots of cheese, everyone will love this dish. This keto potluck recipe is simple to make, too!
---
Want to have some keto-friendly sauce to go with your grilled meat? This recipe is fast and easy to prepare, and with only 1 net carb in a 2 tablespoon serving, you'll stay in ketosis and on track for your goals.
---
Deviled eggs are a potluck staple, these babies never fail to disappear fast. Whether keto or not, your family and friends will love these. The bacon is a fun addition, and all the flavor and extra fat will keep you satisfied.
---
A fantastic alternative to high-carb potato salad, this salad uses fresh cauliflower instead. The dressing is a traditional potato salad dressing, made with avocado oil mayo if you've got it! Let this one marinate for a few hours before the party, and you won't miss the potatoes at all.
---
If football is anyway going to be part of our late summer gatherings, you are going to need some great keto hot wings.  Here is how we make these awesome low-carb wings.  ProTip: Don't forget the Keto Ranch Dressing for your wings. Or bring a big bowl of Guacamole.  You don't even need chips. Use that high-fat keto goodness as a topping on your burger!  Need more ideas? Here is an article with more keto friendly snacks.
---
Best Low-Carb Adult Beverages For A Ketogenic Diet
Good cold beer on a hot summer day is a barbecue staple.
At anywhere from 10 to 20 carbs in a 12-ounce bottle, beer will take up your whole carb allotment for a day in no time!
There are options if you want a refreshing adult beverage that won't kick you out of ketosis. (As long as you drink in moderation – stay safe and in ketosis at the same time!)
Also remember that while these low-carb options might not knock you out of ketosis, your body will process the alcohol first, which means fat-burning gets put on hold as long as there is alcohol in your system.
Stick to one or two and make sure to drink plenty of water to keep on target for weight loss.
---
List of Low-Carb Keto Friendly Beers
While not the same as full-bodied beer, there are a few options out there if you want a keto-friendly beer. Here are a few of our personal favorites.
Budweiser Select 55 Lite Lager – 1.9g Carbs, 2.4% ABV
Miller Genuine Draft 64 Light Lager – 2.4g Carbs, 2.8% ABV
Michelob Ultra – 2.6g Carbs, 4.2% ABV
Beck's Premier Light – 3.2g Carbs, 2.3% ABV
---
Hard Sparkling Water is a good low-carb drink option
Fairly new to the market, these beverages are bubbly, have an alcohol content similar to beer, and they hint at fruit flavor but are not sweet, just like regular sparkling water.  
Hard Sparkling Water is generally even lower carb than low-carb beer, but still not zero carb.  Here are a few of our personal favorites.
Henry's Hard Sparkling water – 1.6g carbs, 4.2% ABV, available in Passion Fruit, Lemon Lime and Strawberry Kiwi
White Claw Hard Seltzer – 2g carbs, 5% ABV, available in Lime, Black Cherry and Ruby Grapefruit
---
Hard liquor is a zero carb keto adult drink option.
The lowest carb option for alcohol, distilled spirits have 0g carbs, and if you make sure your mixer is low-carb, your ketogenic status is safe!  
List Of Distilled Spirits With Zero Carbs For A Keto Diet
Whiskey
Bourbon
Gin
Tequila
Vodka
Rum
Scotch
Brandy
Just make sure that you are choosing the pure distilled spirit and not one that was pre-mixed to form some kind of sugary cocktail.  For example, always choose Whiskey, not Honey Whiskey.
Any of these zero-carb distilled spirits will make a fine ketogenic cocktail when paired with a low-carb mixer of your choice.
Of course, all suggestions regarding moderation still apply.
---
Some of our favorite Keto Cocktail Recipes
Vodka or tequila with diet tonic and garnish with a slice of lime – I love tequila and tonic as a margarita alternative. I use Zevia brand Tonic Water Mixer. Crisp, refreshing, and a touch of sweetness from stevia, a no-sugar, no-calorie sweetener that won't affect your insulin levels. This is a summer staple for me.
Whiskey Sour – Whiskey and Zevia Lemon Lime Mixer, garnish with a slice of lemon – A family friend once showed me this simple version of a Whiskey Sour, using Sprite. Substitute this keto-friendly mixer instead and you're ready for the picnic!
Moscow Mule – Vodka, diet ginger beer, a splash of lime juice, garnish with a slice of lime – Very trendy right now, the Moscow Mule lends itself to a Keto drink easily with the use of Zevia Ginger Beer Mixer. Bring along your copper mug for full effect!
---
Keto-Friendly Snacks With A Crunch
Having keto-friendly potluck and side dish recipes is great for being prepared. Sometimes the hardest part of a get-together is avoiding the finger food.  
So let's restate Keto Tip #2 – Bring your own keto finger food!
All those chips, pretzels, and crackers are usually around and they are going to be hard to resist if you don't know that there is a better option on the other side of the food table.  

Check out these great ketogenic finger food alternatives. With a little planning ahead, there is no need for you to get sidetracked when you have these in your keto arsenal!
Are you just starting you Keto Diet?  If you're struggling, be sure to check out the easiest keto meal plan available.
List of Keto Chip Alternatives
Parmesan Crisps – We love these, and we keep them around our house all the time! A great snack with lots of crunch, they are made simply with parmesan cheese. The Kitchen Table Bakers brand comes in Original, Jalapeno, and Sesame!
Pork Rinds – Another snack that we always keep on hand. Pork rinds are great alone or dipped in guacamole, homemade sour cream dips, and Chipotle Lime Primal Kitchen Mayo. We always eat the Epic Artisinal Pork Rinds with Sea Salt and Pepper when dipping. They also come in BBQ flavor!
Salted Nuts – Having a handful of crunchy, salty nuts can go a long way when you're tempted by the snack table. We love Royal Hawaiian with Sea Salt and Cracked Pepper Macadamia Nuts. We also buy Member's Mark Dry Roasted Almonds with Sea Salt at our local Sam's club, but you can order them online, too. Dry roasted is best, to avoid any industrially processed oils.
Raw Vegetables – Often overlooked, the lowly cucumber and celery stick can give you crunch, while also delivering your favorite fat-based dip of choice. Watch out for too many carrots, as their carbs will really add up. Raw broccoli and cauliflower are great, too!
Pepperoni Chips – Want to keto like a boss and make your own chip alternative? These oven-baked, crispy pepperoni chips will blow your low-fat friends' minds. And you'll love every bite.
Guacamole Dip – All these keto finger foods are made better with some high-fat avocado dip. Bring enough to share, you don't want to run out!