Christmas 2020 Keto Gift Guide
Finding the perfect Christmas Gift for someone who has entirely changed their way of eating when they started their keto diet can be challenging. 
You want a keto Christmas gift idea that shows that you understand the importance of their ketogenic diet AND that you support their healthier way of eating.
I've been keto for years and I have literally thousands of keto friends. I know what makes a great Keto Christmas Gift.
What makes a Great Keto Christmas Gift?
When creating this list of ketogenic gift ideas, we have carefully chosen products and services that help your loved one upgrade their keto diet in at least one of the following ways.
Makes their keto way of eating EASIER
Makes their keto diet HEALTHIER
Makes their keto diet MORE EFFECTIVE
CELEBRATES their keto success story
EXPANDS their healthy life style
Or are just FUN
To make it easier for you, we've broken the gift ideas into categories.
Each of these keto gift ideas includes a link, and many are affiliate links where we earn a small commission when you order through those links but your cost remains the same.  Some links go directly to the product or service, others to Amazon.  As an Amazon Associate, I earn from qualifying purchases.  Thank you for your support.
---
Gift Ideas for the Keto Kitchen
Being keto is all about eating great food, and that becomes easier and more fun when your keto kitchen has great tools. 
This gift category is all about great keto kitchen gift ideas.
A great set of quality steel knives will last most keto cooks a lifetime, so buy a quality set. Though steel blades will need to be sharpened regularly, the heft of a quality steel knife is a joy for many.
---
In the last 15 years, we've owned two of these Chef's Choice Sharpeners. We use them repeatedly every day in our meal delivery business. For most home cooks, this quality tool will last a lifetime and makes sharpening your knives a task that takes seconds.  A sharp knife is an easy to use knife and a safer knife.  This is a great keto gift idea.
---
By now, you've probably heard about the glory of the InstaPot. This digital pressure cooker provides the speed of a pressure cooker, but with digital control that allows you to turn it on and walk away for the day.  We use ours to make super easy hard boiled eggs for a keto friendly snack, pulled pork for meal prepping, and much more.  If your keto loved one doesn't have one yet, this is a great gift idea.  Get at least the 6 qt version, and if they have a family, go for the larger 8 qt.
ProTip:  Do they already have an InstaPot?  Then upgrade their InstaPot with accessories.
---
We use silicone molds for all kinds of things in our our kitchen; Keto Peanut Butter Cups, Crustless Holiday Pies, Low Carb Tarts, and more. You could box up a whole variety of molds for a killer Christmas gift.
ProTip – If your loved one makes fat bombs regularly, consider tossing in an Easy Pour Funnel. It's cheap but makes filling smaller silicone molds much easier and less messy.
---
A really high quality food processor makes food prep much faster and easier.  The Ninja  Blender and Food Processor System is our favorite by far.  It's fast, powerful, and smart.  It's also easy to clean…for a food processor.  You can use it for almost anything.  It will even make Zoodles!
---
We use a stick blender mostly with fat booster sauces to make them smooth and pretty. As we are cooking the sauce, we just hit it with the stick blender while it's still on the stove and it quickly emulsifies any clumping fats. A stick blender is also great for making fatty coffee.
---
Cheese is a staple for a lot of people on a Keto Diet.  Many who eat strict keto do not eat pre-grated cheese because of the starch used to keep it from clumping.  If this describes the person you're buying a gift for, consider a quality cheese grater.  It will save a lot of time.  We like this one because it grates straight into a container.
---
This isn't a gift idea for everyone, but for the right person it's AWESOME!  I love to make sausage. Fancy Sausage. Stuff you can't buy in stores. Stuff that boggles my friends. For me, it's more than cooking…it's a hobby…really an art. If the person you're getting ready to get a gift for sounds like me, this is an awesome gift. Be sure to buy the best meat grinder / sausage maker that fits your budget.  My grinder is old, and not available anymore. However, if I were to buy one today, I'd go with this grinder. It fits my budget, is powerful, and looks easy to cleanup.
ProTip – If it's a new hobby, get some accessories so they can start making sausage right away.  The book Charcuterie is a must-have.
---
If you keto loved one does Fatty Coffee in the morning or enjoys low carb drinks like the Chocolate Collagen Shake, this blender will make life easier.  I use it in the AM for my fatty coffee with collagen for my joints. During the summer my kids use it to make smoothies.  It also makes short work of grinding up pork rinds to use in other keto recipes.
We own a Bullet, but if you want a higher-end small blender like this, consider a NutraBullet.
---
Meat is an important part of the keto diet, and anything that upgrades your meat is a great keto gift idea.  So how about this amazing electric smoker. Easier and less time commitment than traditional smoking, but with the same great flavor. This is a bit pricey, but if it fits in your budget you are going to blow your loved one's mind.
---
Or maybe an indoor grill is more appropriate.  Fast grilled steak, chicken, pork chops, and more right on your loved one's keto kitchen counter.
---
Keto Gift Ideas for the Keto Life
We've made notes on what kinds of keto dieters would appreciate each keto gift.
The most accurate way to tell how long it took you to get into ketosis is to use a blood meter to measure your ketones.  This tool is kind of expensive, and the strips aren't cheap either.  This is the kind of keto gift idea that everyone would love to have, but they might not buy it for themselves if they are on a budget.
---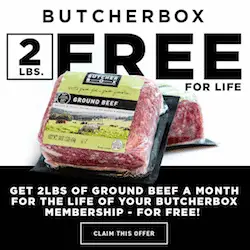 Help your keto loved one upgrade their diet with great grass-fed beef delivered monthly.  ButcherBox is a meat delivery service that delivers grass-fed beef, free-range chicken, and more.  Check them out!
---
For most Keto Dieters, coffee is a staple.  If your loved one is a coffee drinker, consider a gift to upgrade their coffee game. French pressed coffee is better.  The flavor is richer, the mouthfeel better. The ritual of making it more relaxing. It's not an everyday thing for us, just a Sunday morning treat shared on the back patio as we reflect on our week. We started with a glass french press, but after breaking two, we went to a stainless steel french press.
---
If you are making french press coffee, you need to grind your coffee beans fresh. It's part of the ritual, and the flavor is so much better.  This is the simple little grinder that we use.  It gets the coffee nicely coarse and even, which is ideal in the french press.
---
And if you are going to grind your own coffee, you might as well roast your own coffee beans, too. This is the roaster I own. It's simple but gets the job done. I don't roast my own coffee all of the time, usually just on mini-vacations at home.  This is kind of like the sausage-making above…it's a hobby and an art. I mix different kinds of beans and try different levels of roasting. It's fun and makes darn fine coffee.  P.S. Before you think I'm a total coffee snob, most days we make our coffee in a regular old drip coffee pot, though we do use whole organic beans that we grind in an electric grinder just as we brew coffee.
ProTip – If you are getting someone a coffee roaster, be sure to include some green coffee beans.
---
The absolute ugly truth of the amazing Keto Diet is that for most people, it's going to mess with your digestion for at least a little while.  A little loose, or a little tight…it's uncomfortable.  The Squatty Potty helps with both those issues by getting us back into a natural position to go to the bathroom, which is important whether you have digestive issues or not. The Squatty Potty helps you maintain a squat while still seated comfortably with your butt on the pot.  We have one of these in every bathroom in our house.  When you give it, you might get some laughs…but once they try it, they too will have one in every bathroom in their house.
Oh…you should get one for yourself too.  Seriously.
---
Does the person you are finding a keto gift for do meal prep and take lunch to work?  If so, consider a few of these Bento Lunch Boxes to make life a little easier.
---
Sometimes a little relaxing is just what the doctor ordered.  Give the gift of peace and quiet with this fun and relaxing bath bombs.  Each one of these is different.  Just toss them in the bath and relax as they release their amazing fragrance and moisturizers.  Angela loves these.
---
Does your loved one have a love affair with relaxing baths?  If so, upgrade their bath experience with this insanely cool Bathtub Caddy.  There is a stable table for their book, phone, wine, the above-mentioned bath bombs, and more.
ProTip – You might as well toss in a bathtub pillow and really spoil whoever you are getting a gift for.
---
Angela and I both practice yoga. Angela is really a real yogi, and I am really not.  However, as I've gotten older I've found that I exercise to be healthy and pain-free instead of doing "curls for the girls." We both have these extra-large, thicker mats, and love them.  If you have a yogi like Ang or a yoga-beginner like me, this makes a great gift for their healthy lifestyle.
---
My whole family has done Ancestry DNA, and it's fascinating, thought-provoking, and leads to endless discussion and shared research.  Why not find out what your DNA has to say? 
---
Keto Gift Ideas for the Keto Fun
Sometimes it's just important to have fun on your keto diet and these gift ideas are chosen for straight-up fun.
If you live with someone on a keto diet, you know that avocados are a central part of the diet, so how about this fun gift: Avocado Tree Kit! This is just fun, but know that if you plan to keep it for years, this tree will probably need to be inside during the winter months.
---
This is a crazy cool gift, a custom etched bottle of wine.  And for being custom, it's easy and fast. Most orders ship within 3 days from order date.   Shipping transit is another 1-5 days.  So up to 13 days, max and you'll have your personalized keto Christmas gift.  Now that's cool.
---
Has your keto friend or family given up beer in favor of zero carb adult beverages?  Then maybe a customized flask is the perfect keto gift.  You can even customize it to say something about their keto way of life.  "Don's Keto Friendly Juice" or "Mary's Keep me in Ketosis Relaxer".
ProTip – If you are looking for something a little classier, check out this personalized decanter & highball set.
---
This is our own design from Advantage Style on Amazon.  This shirt reads, "Super Mom – Fueled by Kisses & Ketones".  There is also a Super Dad T-Shirt and a really funny Ketone Pee Strip T-Shirt.  Check them out.
---
Keto Gift Idea – DIY Keto Gift Basket
A Keto Gift Basket is a fun way to give a 'big' gift full of lots of little things. 
Don't forget some of the keto gift ideas from above to include in the gift basket (T-Shirt, Avocado Tree Starter Kit, etc…) but here are some more gift ideas to include in your DIY keto gift basket.
ProTip – Part of what makes a gift basket so cool is how pretty it looks.  Add some tissue paper or a few fake flowers. Think vertically to add visual interest. Maybe a good bottle of dry wine or bourbon.  You'll also need to wrap the basket.  In a pinch, cellophane wrap will work. Or make it easy and get a Keto Gift Basket Sack that you add a really nice bow to.
P.S.  No Snickers in your DIY Keto Gift Basket….this is just a product picture.  
Start with a pretty basket that will be useful once they remove all of the goodies from their custom made keto gift basket!
Monk Fruit is a natural zero carb sweetner that we use in many of our sweet ketogenic recipes.  Every keto pantry should have some. It is a bit pricey but you only use a tiny amount, so this will last for a long time.
ParmCrisps are some of our favorite keto snacks, we eat a sack of them weekly.  If your keto loved one hasn't tried these yet, now is the time.
Coconut Butter is a featured ingredient in many fat bomb recipes.  It's shelf stable, so it will keep too.
Trace Mineral Drops are a staple in the Davis household. Just a few drops in our water or coffee helps keep our electrolytes balanced and really helped us through any keto flu symptoms we experienced when we started.
Many of us on Keto enjoy pork rinds as high fat, zero carb 'chips'.  I eat mine with guacamole or hot sauce.  The regular ones from the grocery store are pretty darn good, but if you want to spoil you keto-friend on Christmas, add a bag of these artisan pork rinds to their Keto Gift Basket.  These are crazy good.
Macadamia nuts might be one of the best keto nuts.  Very high fat, low carb and crazy good. Once again, a little pricey so they make a great gift.
Want more Keto Christmas Gift Basket Ideas? Read this article also on this website.
Do you have other Keto Gift Ideas?
Please, leave us a comment below and let us know what you are hoping for on Christmas morning. Your suggestion just might be added to the list…maybe even with a link to your website if you have one!